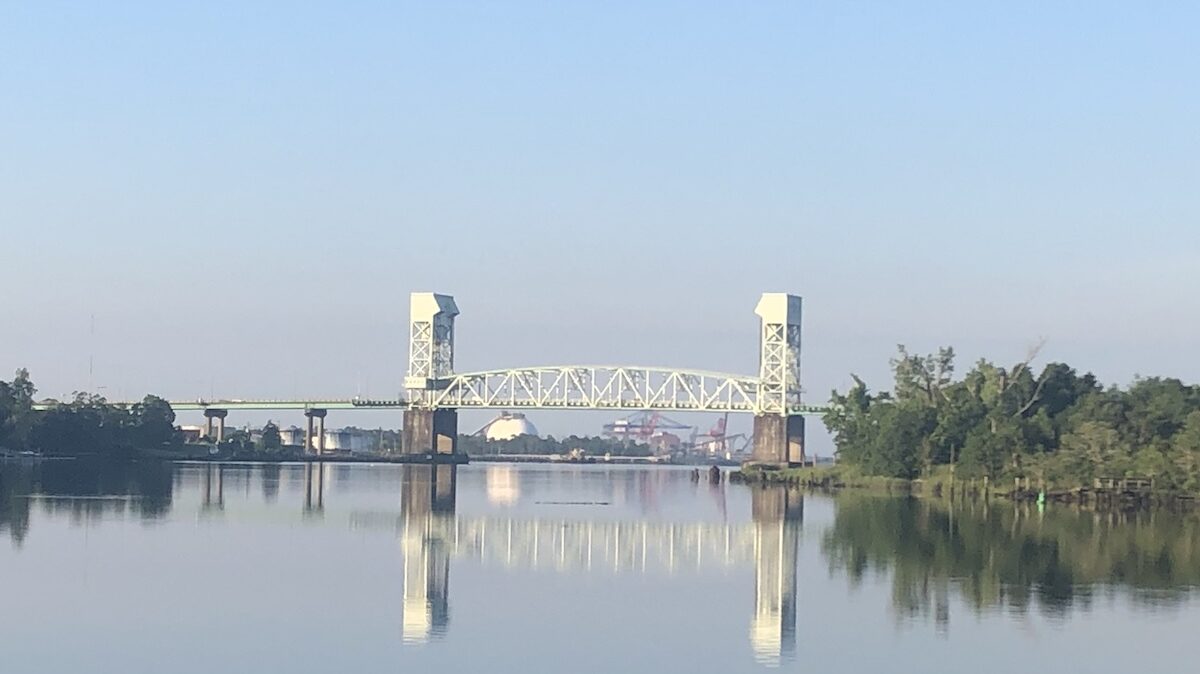 I've had the opportunity to visit the Port City – Wilmington, North Carolina – several times over the past few years. It offers a busy and vibrant downtown, is the home of the University of North Carolina at Wilmington, and has nearby some beautiful beaches. Wilmington is nestled between the Cape Fear River and the Atlantic Ocean.
Wilmington also has a most troubled history. As a southern town, it almost goes without saying that the early economy of New Hanover County prospered because of slave labor. As a major port, railroads crossed North Carolina toward Wilmington where goods were exported around the globe.
Following emancipation and during Reconstruction, Wilmington continued to grow in prosperity. During the latter half of the nineteenth century, Black Republicans and their Fusionist allies saw the election of the city's multiracial government. But underneath the success of progress, the sin of racism festered.
The Coup & Killings of 1898
White supremacists sought to defeat the elected multiracial government at the ballot box and to remove Blacks from power in Wilmington altogether. They threatened actions "by the ballot or bullet or both." For months, the local newspaper had published misleading and outright lies in an attempt to divide the community and to incite white Wilmingtonians to fear their Black neighbors. On November 8, 1898, Democrats took every action imaginable to suppress the Black vote. Ballot boxes were stuffed with new ballots to the point where ballots far outnumbered the population.
But it was two days later, November 10, 1898, that the worst of the violence occurred. The Black-owned newspaper, the Record, was burned. Shots were fired in cold blood: at least sixty Black men were killed. Thousands more fled their homes and livelihoods; many were threatened to never return to the Port City upon threat of death.
I cannot even begin to fully lay out all that took place leading up to November 10, 1898, what took place that day, or what ensued for decades to come. I highly recommend David Zucchino's Wilmington's Lie: The Murderous Coup of 1898 and the Rise of White Supremacy to better understand this terrible chapter in our American history.
A report prepared a century after the coup concluded that the events of 1898 led "directly to strict residential segregation in Wilmington, decades of Jim Crow discrimination, and the disenfranchisement of the state's black citizens." Wilmington's Lie at 341.
A Memorial to 1898
Even after several visits to Wilmington, I knew little of what had taken place here in 1898. (Which is why I took Zucchino's book with me on an early trip there in 2020.) And I did not know that there stood a memorial to what had taken place.
Wilmington's 1898 racial violence was not accidental. It began a successful statewide Democratic campaign to regain control of state government, disenfranchise African-Americans, and create a system of legal segregation which persisted into the second half of the 20th century.
It would take Wilmington a century to recognize and begin the effort to memorialize "those who suffered as a result of the violence of November 1898." An 1898 Foundation was established and, a decade later, the memorial was dedicated near the site where some of the worst violence occurred.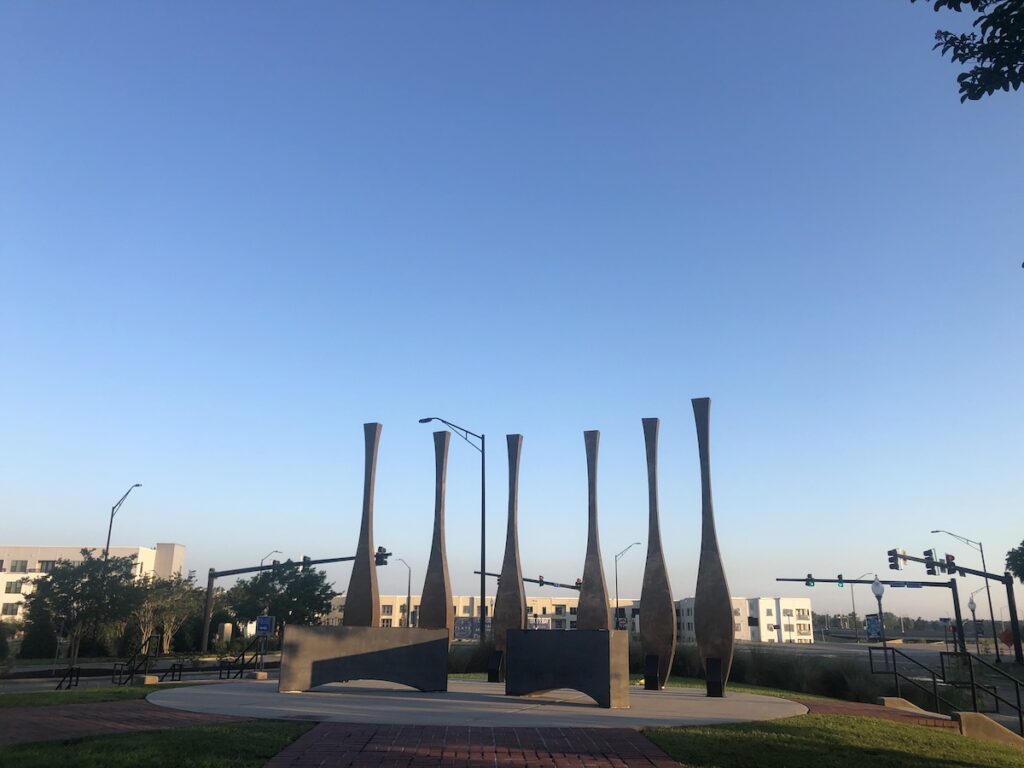 A plaque at the memorial reads:
These six bronze paddles stand as a memorial to those who suffered as a result of the violence of November 1898. The paddles refer symbolically to water, an important element in the spiritual belief system of people from the African continent. They believed water to be the medium for moving from this life to the next. Water is also incorporated into a diversity of beliefs throughout the world to symbolize purification, renewal, rebirth, forgiveness, cleansing and wholeness.


For this city that grew up beside the waters of the Cape Fear, these paddles symbolize a type of passage as well. The memorial stands here on the banks of this river as a testimonial to a community that, one hundred years later, strove to acknowledge injustices of the past and worked to move forward together towards a society of greater justice and inclusiveness for all its citizens.

We believe these slender yet strong paddles, though rooted in this soil of past memories, rise skyward to the future in a spirit of reconciliation and hope.

Members of the 1898 Foundation, 8 November 2008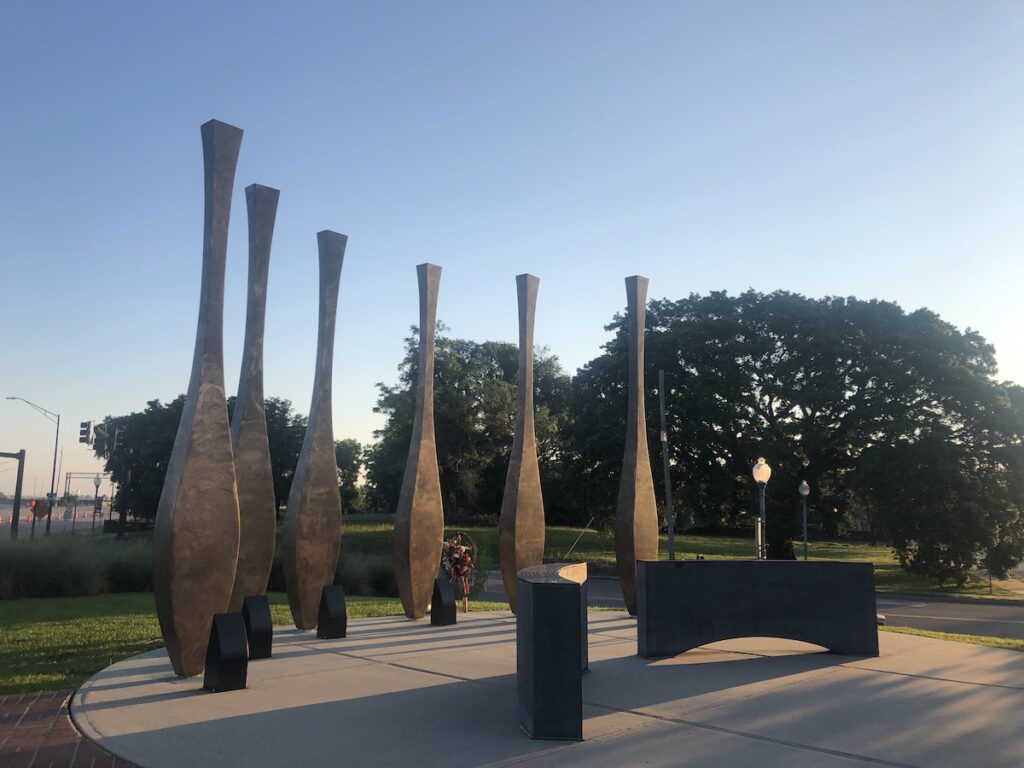 I visited the 1898 Memorial and learned about this horrible tragedy during the summer of 2020 while America again reeled from the killings of Black men and women. In the wake of these tragedies, Americans have again examined the importance of which people and events are memorialized, honored, and glorified. In Wilmington, North Carolina, police officers were fired after for "brutally racist" language. News of this broke as I departed Wilmington; when I returned home to Kentucky, two Confederate monuments were removed albeit for "safe keeping" in order to comport with laws passed by the North Carolina legislature to protect these kinds of monuments. And as with other Confederacy-glorifying monuments, the future of the two in Wilmington remains unclear.
I will not include photographs in this post of the two Confederate monuments which, for now at least, are in an undisclosed location. I bring them into this discussion only because, for a decade, they stood in Wilmington near the 1898 Memorial honoring completely two different things.
But as it states on the plaque to the 1898 Memorial, we ought to "move forward together toward a society of greater justice and inclusiveness for all its citizens." It is a long, slow, but important road. And as Dr. Martin Luther King, Jr. said, "the arc of the moral universe is long, but it bends toward justice."