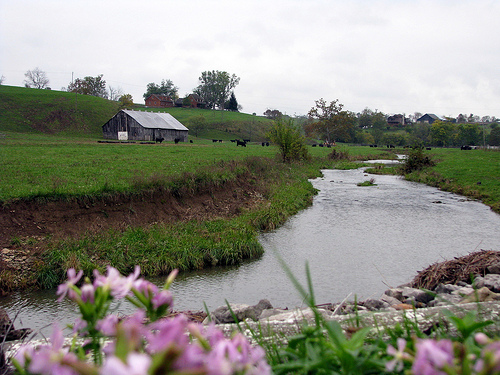 Montgomery County stream – east of Mount Sterling, Kentucky
Late last week, the governor signed the state's new redistricting law (HB1) into effect which redrew the boundaries of state legislative districts. In a highly political process, many were directly affected. Politicos and pundits have had much to say, with the most contentious move being the transfer of Lexington's 13th Senate District to nor'eastern Kentucky taking with it Senator Kathy Stein. Lexington has gone all a'twitter and the folk at Barefoot & Progressive have led the charge. But this post isn't about politics.
(UPDATE 2-24-2012): The Kentucky Supreme Court has ruled that HB1 was unconstitutional and, as a result, this won't be Kathy's new district. She shall continue to repesent the people of Lexington. But keep reading about eight of our wonderful Kentucky counties!
While the Herald-Leader took the opportunity to introduce Lexington its new state senator who lives two-and-one-half hours away in Henderson, no one appears to have yet offered Sen. Stein a tour of her new, very rural district. Having formerly represented a small, compact, urban district, Stein now has a lot of acreage to cover in representing her new constituents in Bath, Fleming, Harrison, Lewis, Mason, Montgomery, Nicholas, and Robertson counties. Off to the new 13th…

Maysville, Ky.
Mason County. Kathy may be most accustomed to Maysville (Mason County) which is the district's largest city, though it still has fewer than 10,000 people. It was here that Rosemary Clooney started her career. In the small hamlet of Minerva, Kathy will find the birthplace of Supreme Court Justice Stanley Reed. As an attorney and ACLU member, Senator Stein will be interested to know that the Justice grew up in a house that was on the underground railroad all of which may have influenced his laying the groundwork for voting rights and ending racial desegregation in Smith v. Allwright.
Montgomery County. On Comment last Friday evening, Joe Gerth of the Courier-Journal noted that though Senator Stein was staying in Lexington, her temptation would be a relocation to Mount Sterling. With convenient access to Lexington via Interstate 64, Montgomery County offers beautiful rural scenes. Mount Sterling's downtown features excellent examples of historic preservation and its annual Court Days festival is renowned.
Bath County. Getting to Owingsville is challenging, but well worth the effort. The people I encountered were all friendly and all well-informed about their community. The old jail was built in the late 1800s and is almost a miniature of the county courthouse. Quite unique! Civil War heritage is present, but the historical prize is the Owings House which ties political intrigue, fine architectural, royal guests, and a remembrance of the Alamo!
Fleming County. A look at our map shows that I haven't yet ventured to Flemingsburg, but I can assure Senator Stein that there is something to see here! After all, Fleming County is the covered bridge capital of Kentucky!
Harrison County. When Senator Stein ventures into Cynthiana, she'll see welcome signage to "a town as beautiful as its name." Behind the courthouse is a log-house in which Henry Clay defended an accused murderer; at the close of the trial, Clay had given such an impassioned plea that the accused's wife planted a big kiss on the great orator's lips.
AA Highway
Lewis County. The only courthouse lawn memorial to a Union soldier south of the Mason-Dixon line can be found here, in Vanceburg. It is a fine town with a great recognition of its history – more can be learned at the visitor's center which is located in the restored home in Rep. George Morgan Thomas, a Republican who also received numerous appointments from Presidents Garfield and McKinley.
Nicholas County. A well-known landmark in the county seat of Carlisle is the Doll and Toy Museum. And Nicholas County had no greater ambassador than her native son, the late Gatewood Galbraith.
Robertson County. Without a doubt, Mount Olivet is the most different from downtown Lexington. But it does have its own sense of charm … and its own golf driving range. Robertson County, in terms of both population and square acreage, is Kentucky's smallest. In history, the Johnson County Covered Bridge reminds of bygone times and the Blue Licks Battlefield State Park and Nature Preserve is a contemplative place that recalls a great incident from the French & Indian War.