Two Boone County homes – one in Belleview and one in Burlington – were recently added to the National Register of Historic Places. The Register is America's official list of cultural places worthy of preservation and it is administered by the National Park Service. Nominations must be recommended by a state agency; in Kentucky, that is done by the Preservation Review Board and the Kentucky Heritage Council.
Locations are added to the National Register weekly and these two Boone County properties were listed at the end of February 2012.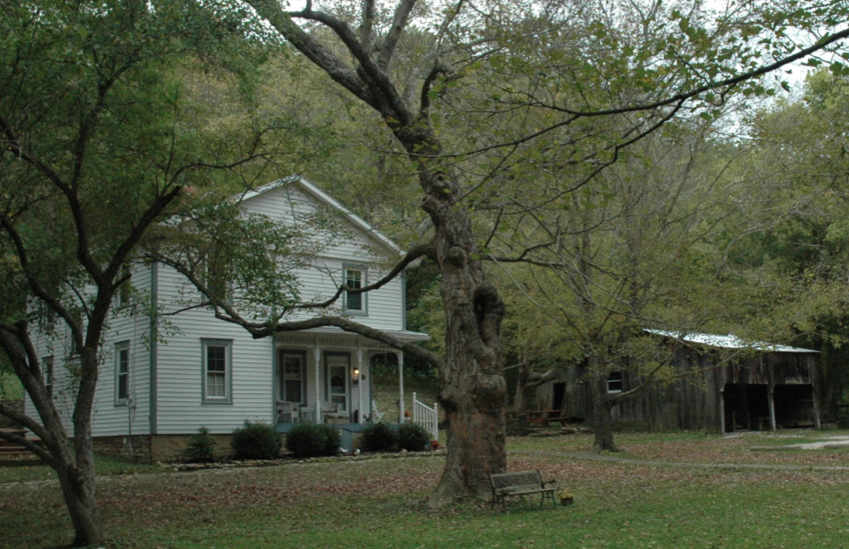 Thomas Zane Roberts House and Workshop – Burlington, Ky.
Photo: Margo Warminski, Boone County Planning Commission
KY Heritage Council
The Thomas Zane Roberts House and Workshop (#12000042), located at 5074 Middle Creek Road in Burlington, is a picturesque farmhouse near the Ohio River. Its original owner and builder, Thomas Z. Roberts, was a master carpenter whose work shows in this frame two-and-one-half story temple-front dwelling that features an inset corner entry porch. Built in 1900, Roberts' fine craftsmanship is evident in both his home and workshop – part of some 250 acres he once owned in the region.

It was here that Roberts – an inventor whose name is obscured by the more popularized Thomas Edison – spent time tinkering and inventing. Of all his creations, none were commercially adopted or patented (another reason why Edison is more renowned). Still, Roberts most notable creation was the Middle Creek Clock: a seven-foot tall walnut grandfather-style clock. Noted for its "intrinsic value as well as its extrinsic beauty," the clock included a "Seth Thomas timepiece, a planetarium, a lunarium, and a dial showing the days of the week. … The planetarium contains an abbreviated model of the solar system, built to scale, and shows the earth's position relative to Jupiter, Mars and Venus. "The orbit of each planet is precisely geared: while Venus gains one degree of arc in 1,656 days, Jupiter loses one degree of arc over 250 years." The lunarium depicts the moon phase, and a dial indicates diurnal and nocturnal hours. The clock features an eight-day spring motor that sounds an alarm as it turns low and keeps ringing until attended."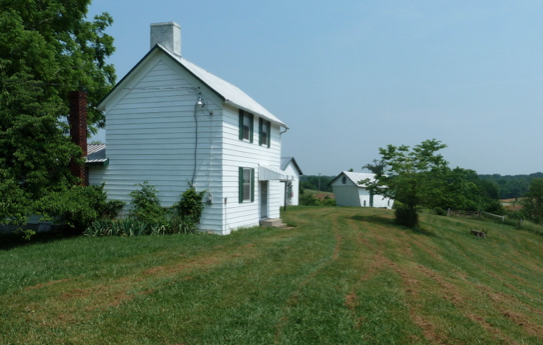 John J. Walton House – Belleview, Ky.
Photo: Margo Warminski, Boone County Planning Commission
KY Heritage Council
Belleview's John J. Walton House (#12000041) is located at 5408 Belleview Road. It, along with its three outbuildings (a washhouse, a smokehouse and a corn crib) sit high atop a knoll about 1.5 miles east of the Ohio River.
Two stories tall, two bays wide and a room deep, the Walton House can clearly be seen as log construction given its impressive thirteen inch thick exterior walls. Built around 1840, the log pen construction was quite typical of the period's regional architecture. In fact, the John J. Walton House is one of eight Boone County homes of log construction listed on the National Register.
It is worth noting that the three outbuildings described were not included in the nomination. Though described in the application, the buildings were not added to the National Register. They are, however, well-preserved examples of domestic outbuildings which are rarely in existence today thanks to obsolescence courtesy of rural electrification. It is rather peculiar that these outbuildings weren't included, and I hope that this omission doesn't lead toward lack of preservation.