The Bluegrass Trust hosts a monthly brown bag lunch lecture series at the John Hunt Morgan House. In celebration of Black History Month, this month's event was held at the Downtown Arts Center and was a live one-person Kentucky Chataqua show from the Kentucky Humanities Council.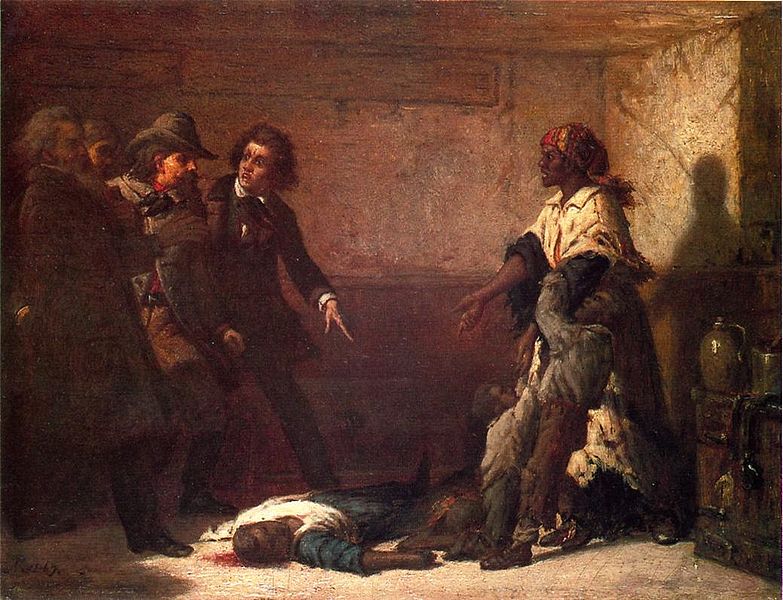 The Modern Medea, by Thomas Satterwhite Noble
Margaret Garner was a slave born in Boone County, Kentucky. Light-skinned, she was likely the daughter of her master – John P. Gaines (who was appointed by Pres. Zachary Taylor to be the governor of the Oregon Territory). When Gaines left her Oregon, he sold his farm, Maplewood (to which this post is geotagged), to his brother Archibald Gaines.
Archibald was a cruel master and ultimately, Margaret sought to escape with her three children. In the snowy winter of 1856, she escaped and crossed the frozen Ohio River, but was ultimately captured. Before her capture, however, she slit the throat of one of her children (she was stopped before she could kill the others) because she believed her children would be better in heaven than back in slavery. According to the story, Archibald was the father of each of her children and she didn't want her daughters to be assaulted by their white masters.
Tried in Covington (rather than in Ohio), Garner was returned to slavery and sold down the river. The story of Margaret Garner was immediately well-known as it was publicized by both abolitionists (decrying the pathology of slavery) and pro-slavery forces (claiming that slaves were all subhuman). [*] The painting above, The Modern Medea, by Thomas Satterwhite Noble was inspired by Garner and was painted in 1867. Her story was popularized again by Toni Morrison's book, Beloved
. Former UK professor research Garner, writing Modern Madea
. There is also an opera about Garner which can be heard on NPR.