Will Lockett was indicted by the Fayette County grand jury on the morning of February 5, 1920 – 100 years ago today – for the crime he was alleged to have committed a day earlier: the murder of Geneva Hardman. It was a crime for which he confessed in the early evening of February 4, 1920.
Indictment
The grand jury indictment found that Will Lockett "with force and arms, did unlawfully, willingly maliciously, feloniously and of his malice aforethought, kill, slay and murder Geneva Hardman by striking, wounding and beating the said Geneva Hardman with a stone, a deadly weapon, from which striking, wounding and beating the said Geneva Hardman then and there died."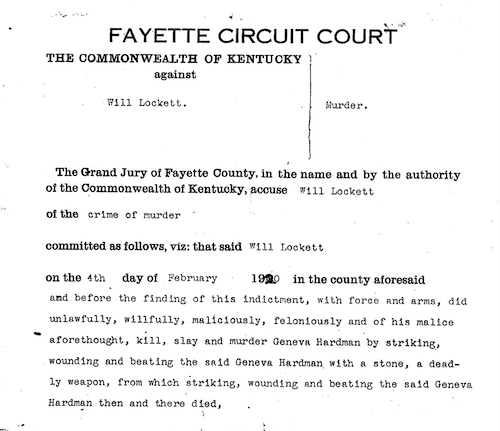 Counsel Appointed
In addition to being indicted that morning, Judge Charles Kerr also appointed two members of the Fayette County bar to represent Will Lockett at trial: Samuel M. Wilson and George R. Hunt. That day, the two attorneys went to Frankfort.
Will Lockett was being held, awaiting trial, at the State Reformatory in the state capital. According to a Report of Counsel, filed in the official court record on February 9, 1920, the two attorneys "had a full conference with the defendant, and offered to have subpoenaed any witness that might help him in the trial of his case, and offered to take all necessary and proper steps in his defense."
The report further identified a second trip to Frankfort by the two members of the bar to meet their client on February 7, 1920. During that second meeting, "the case was again carefully gone over by us with the accused." During the course of these two meetings, the attorneys additionally prepared for trial by investigating the "sanity of the defendant, in order to determine his legal responsibility for the crime … and also for the purpose of determining whether he had sufficient mind to know and comprehend the effect of the plea which [Lockett] desired to make."
Lockett's attorneys "stood ready" to make motions for continuances and a change of venue, but determined that "nothing could be gained" by such motions.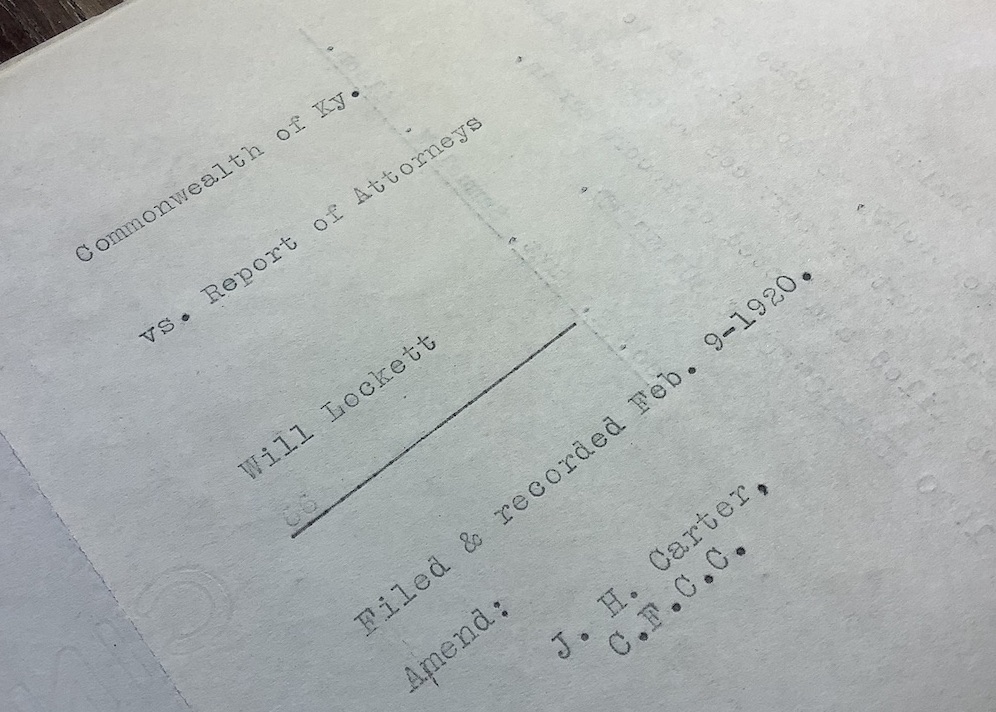 (It is worth noting that the Report of Counsel, although "filed and recorded" by the clerk of the Fayette County Circuit Clerk, is not contained in the official trial record which is housed in the state archives in Frankfort. Instead, this document has recently been discovered in the private papers of attorney Samuel M. Wilson which are housed at the University of Kentucky. It is unclear how Mr. Wilson came into possession of this and other of the official court records.)
Let Law and Order Prevail
And although many in the community were determined to see Lockett lynched, a number (likely, a majority) wanted law and order to prevail. The Lexington Leader, the city's afternoon newspaper, published an editorial on February 5, 1920 under the headline "Let Law and Order Prevail." It read, in part, "let the self-confessed murderer be given the due process of public trial, without interruption by anyone, and then may the curtain fall over his deed which came to near precipitating a tragedy which all might later have deeply deplored."
The editorial concluded, "Justice will be swift and certain. This is all that any reasonable man wants or will ask."