Old Morrison (Transylvania University) – Lexington, Ky.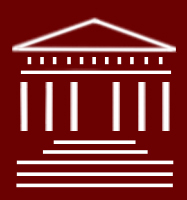 R. Owens Williams is the President of Transylvania University, but Old Morrison is its face. Mention Transylvania University to those familiar with this great institution, and it will conjure up an image of this impressive building with its six massive Doric columns rising above the northern end of Gratz Park. Or at least it should… it is, after all, Transy's logo.

Designed by Gideon Shryock and constructed from 1831-1834, it is the oldest building on campus that is in its original location (the caveat being necessary because of the Patterson Cabin which came to Transy in 1939). Shryock, of Lexington, had recently completed his work on the state capitol in Frankfort when Henry Clay, a member of the school's board of trustees, sought his services to construct a main building for the college.
This brick building, covered in concrete, is three stories in height and serves as the University's administrative building. Over time, it has also housed a chapel, classrooms and, during the Civil War, acted as a hospital for both Union and Confederate troops. There are even two bodies lying forever in the crypt at Morrison – Constantine Rafinesque and Saveur Francois Bonfils.
A fire in 1969 gutted Old Morrison, which was renovated, restored and rededicated on May 9, 1971. It was added to the National Register in 1966. Though his words are over 100 years old, they still are true. Burris Jenkins, president of then-Transy from 1901 to 1906 said that "Morrison is the purest, simplest piece of architecture in the state of Kentucky and the citizens of Lexington would part with any other building in the Bluegrass rather than part with the majestic Doric Morrison College."
Bibliography
Gratz Park Neighborhood Association
NRHP, "Old Morrison"
Transylvania University, "Transy Campus"
This post was republished by KYForward.com on August 11, 2011.