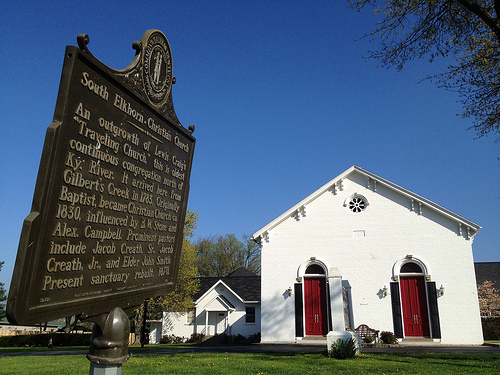 South Elkhorn Christian Church – Lexington, Ky.
Under Moses, the Israelites left Egypt for the Wilderness to ultimately arrive at the "promised land" – one where they could practice their faith freely. History has a funny way of repeating itself, usually noted through the metaphors of a historian. George W. Ranck, in his 1891 Account of the Baptist Exodus from Virginia to Kentucky in 1781 employs a host of metaphors to describe the emotions felt by the old congregation of the Upper Spottsylvania (Baptist) Church in September 1781. With the use of a quote attributed to Daniel Boone, the churchgoers found their own "promised land" as "heaven must be a Kentucky of a place."
Only a few decades ago, South Elkhorn Christian Church was a country church a few miles from Lexington. Today, it is located between several of southwest Lexington's suburban enclaves. Surely, it is this transforming location that has allowed South Elkhorn to continue to grow in numbers while other "country churches" have either shrunk or closed. In 1973, church leadership purchased about ten acres of land adjacent to their two acre tract providing significant opportunities to grow for the congregation.

As noted above, the church originated as a Baptist congregation and it remained so until the early 1830s when a theological divide in the church surfaced leaving the remaining congregation as part of the 'new' Restoration Movement.
While other congregations in central Kentucky were not so lucky, South Elkhorn seemed to remain largely intact during the Civil War. According to Pope's history, the church's minutes "make no mention at all of the [Civil War] or its issues." Silence is bliss?
After the war, the South Elkhorn Christian Church demolished its old meeting house and a new brick rectangular church was built at a cost of $4,000. This 1870 structure features two front doors opening into a high ceilinged room with a raised platform on the opposite end. Originally, the center pews were divided with a wooden barrier (women and children on one side, men on the other), but this division was removed in 1958. Baptisms (by immersion in both the Baptist and Restoration traditions) were originally conducted in the nearby creek until a baptismal was installed under the floor of the raised platform.
The names of members and ministers alike are recognizable to those familiar with local history. Elijah Craig. J.W. McGarvey. Alexander Campbell. Others I recognize, but identity confirmation is only by conjecture. Col. Meade. John Curd.
The history of South Elkhorn is incredibly rich, which lends its hand to the excellent histories for which it is the central topic. Ministers Ward Russell (1933) and Richard Pope (1983) both penned a history of the church, and the current minister, Mickey Anders, is presently compiling an updated third history. So more to come…