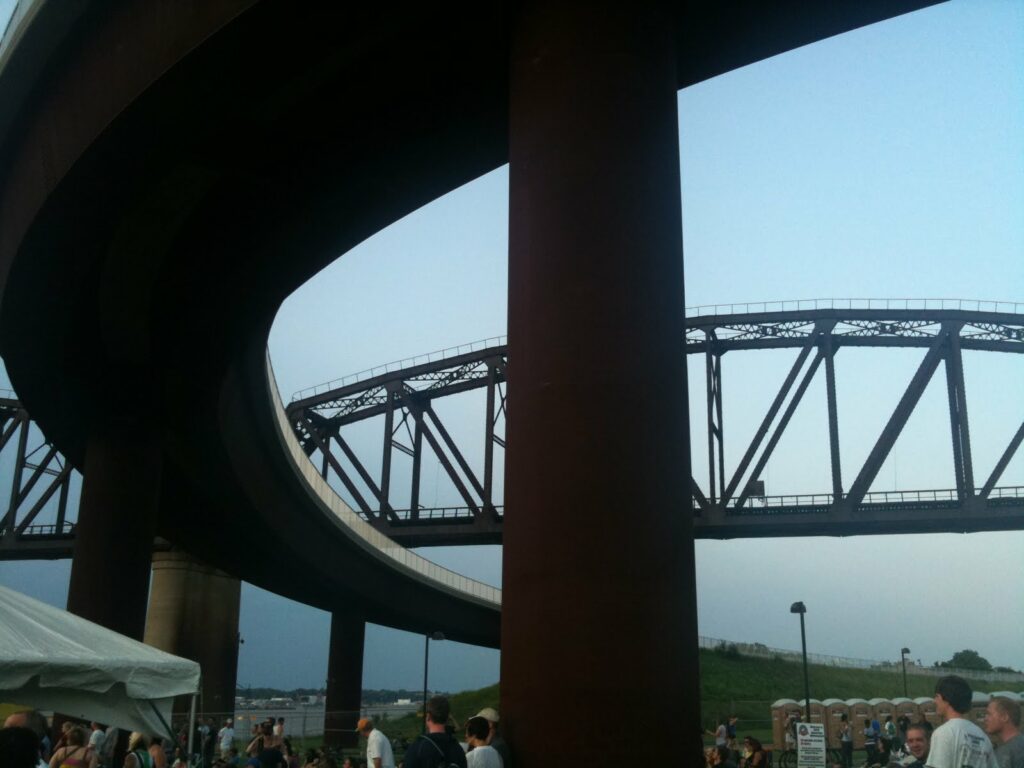 The Big Four Bridge from Waterfront Park – Louisville, Ky.
The Big Four Bridge was for a long time an old abandoned rail bridge on the east end of downtown Louisville. The Big Four gets its name from the Big Four railroad – the nickname for the now defunct Cleveland, Cincinnati, Chicago and St. Louis Railroad. For years, the bridge sat in the middle of the river, with both the Indiana and Kentucky approaches having been removed in 1969 and sold for scrap after the railroad fell into disuse.

Construction began on the bridge in 1888. During the construction, an astounding 37 people died. Two accidents with pier caissons caused drownings, and a horrible accident occurred when the collapse of construction equipment killed 21 workers. The bridge was completed in 1895.
In recent years, there has been a move to convert the bridge into a pedestrian and bicycle bridge. This conversion has been in the works for years and has proceeded at a snail's pace. What you see above is the completed entrance ramp on the Kentucky side, though no similar entrance exists on the Indiana side. The entrance was closed when I visited, but looked quite impressive from the ground.
(PJWB side-note): In the 1960s, architect Jasper Ward proposed a housing development on the Big Four. The Louisvillian-Manhattanite at Broken Sidewalk has closely followed the developments at the Big Four Bridge.