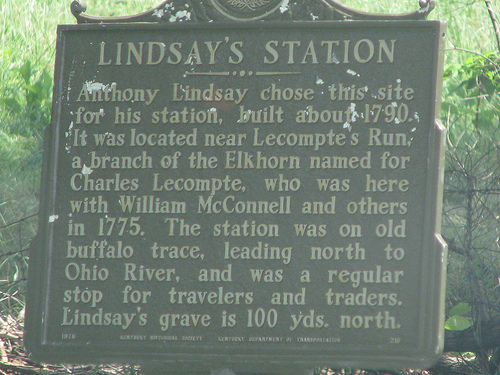 Lindsay's Station Historic Marker – Stamping Ground, Ky.
About a mile north of Stamping Ground, at the junction of KY 227 and 368 stands a Kentucky historic roadside marker bearing information about an early Kentucky settlement established along a buffalo trace near Lecompte Run in 1790. It was there, in three log cabins and a stockade to hold livestock, that Anthony Lindsay created a small settlement and from where he would grow to be a successful farmer in his day. Prior to his settlement, he was a veteran of the French & Indian War and a Revolutionary War Patriot.
Historic marker #218 reads:
Anthony Lindsay chose this site for his station, built about 1790. lt was located near Lecompte's Run, a branch of the Elkhorn named for Charles Lecompte, who was here with William McConnell and others in 1775. The station was on old buffalo trace, leading north to Ohio River, and was a regular stop for travelers and traders. Lindsay's grave is 100 yds. north.
The graves, while not visible form the road, are within a fenced thicket. [*] Lindsay's Station was not among the first or the most significant of Kentucky's early settlements, but at each early pioneers and settlers struggled with the elements and the reality of clearing land, planting crops, and risking the threat of Indian attack. Their contributions to Kentucky cannot be discounted.

Neither can this footnote in history: certain of Anthony Lindsay's descendants moved on to Missouri and his great-grandson, Jesse Woodson James, was one of the most notorious outlaws in American history. Another side note: this isn't the first time we've encountered a Jesse James ancestor in the Commonwealth.