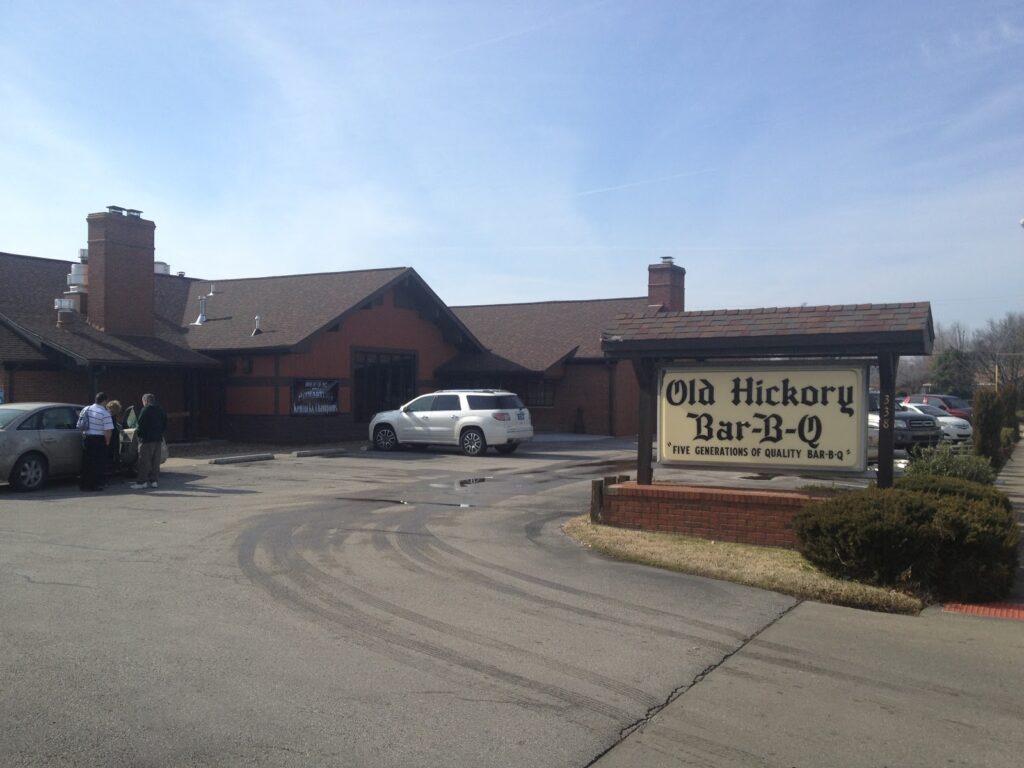 Old Hickory Bar-B-Q – Owensboro, Ky.
For a lot of people like me, barbecue is an intensely personal thing. I think its because of how we as a country eat barbecue – it's an intensely American food that dates back to the Native Americans, and is usually the food that accompanies our biggest celebrations. Whether it be church picnics or family reunions, barbecue is commonly an important part of the celebration.
I was born in Kansas City and spent my first 11 years there. In Kansas City, barbecue is a form of art. My father was a barbecue junkie, and had very specific tastes when it came to who had the best ribs, baked beans, potato salad, etc.
At age 11, we moved to Alabama and my dad was shocked at how different the barbecue was. He hated it. Instead of the savory sweet Kansas City flavor, Alabama has a vinegary mustard style sauce that has a completely different flavor. Over the years, I've grown to love all styles of barbecue – you just have to recognize that every region has its own style, and that there is no REAL barbecue1.
Which brings me to Owensboro.

Owensboro is Kentucky's unofficial barbecue capital. What makes Owensboro different is the primary meat: Mutton. No where else can you find barbecued mutton, and no where else can you find a better version of barbecued mutton's most delicious offspring – burgoo. Burgoo is an old tradition in Kentucky – a stew made from all manner of ingredients brought together by a community and cooked to be eaten by everyone. Commercial barbecue began in Owensboro in 1890, when Henry Green, an African American, opened the first stand.
My wife has family in Owensboro, and while Moonlite Inn is the tourist destination for visitors, I've been told that Old Hickory is the favorite of the locals. It's always been my favorite too.
Old Hickory's burgoo is the best I've ever had, and the the chopped meats are awesome. You owe it to yourself to give it a try next time you're in Owensboro. Old Hickory's history goes back six generations to when Pappy Foreman, an Owensboro blacksmith, put down his tools and started cooking mutton back in 1918.
1 – The moderator of this site tends to agree with the author of this post; I enjoy most types of bar-b-q. I think that is because I didn't grow up in a bar-b-q eating household. As a result, I just learned to like the dish as I experienced it. The reference to no real bar-b-q is not intended to be inflammatory (though some bar-b-q can be). Even so, pretend like the comment was so intended and defend your favorite bar-b-q in the comments.