The Murder of Geneva Hardman and Lexington's Mob Riot of 1920 recounts events that took place 100 years ago. In this series of blog posts, I will recount the events which took place on the centennial anniversaries. For more background about this interesting chapter in Lexington, Kentucky history, purchase and read my recently published book.
On January 24, 1920, little Geneva Hardman sent a letter to her big sister. Geneva lived in the South Elkhorn community in southern Fayette County, Kentucky. Her sister, Nettie, had married and moved to Louisville where she lived with her husband and their two young children, Earl and Hugh.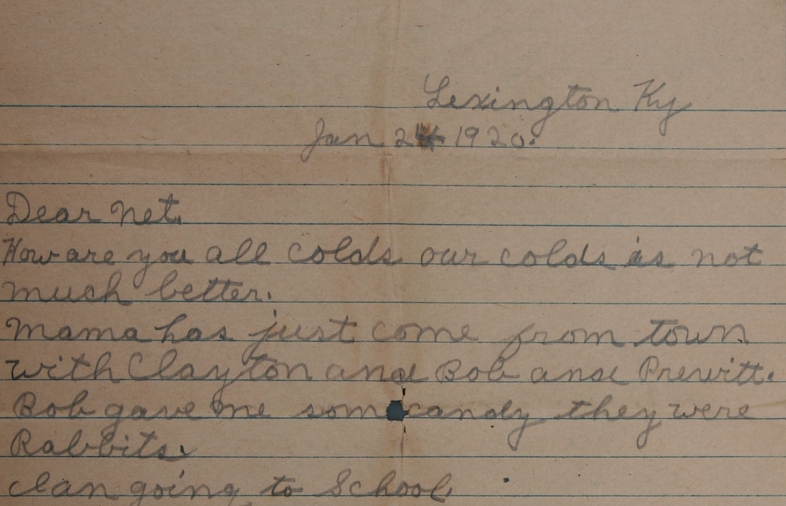 The letter itself contained nothing particularly groundbreaking. In it, young Geneva tells her sister about the weather and about the family's recent trip to town. Her brother brought her some candy. Everything was innocent and childlike.
The letter read:
Lexington, Ky
Jan 24 1920.

Dear Net,
How are you all colds our colds is not much better. Mama has just come from town with Clayton and Bob and Pruitt. Bob gave me some candy they were Rabbits. I am going to school. tell Earl and the baby I would like to see them. What are you been doing. We had a storm Friday and get dark as night at school and we good not see much and the trees was braking down. The big tree down in the sinkhole went down and another tree down by the gate. tell Earl and the baby I will send them some book as soon as I can. it is all most bedtime. so i will close.

write soon,
from Geneva Hardman
It is altogether unlikely that Geneva ever had the opportunity to send her nephew the book she promised.
Prior accounts about Geneva's murder and the ensuing trial of Will Lockett have always ignored the victim. My newly released book attempts to correct this by telling some of the backstory about Geneva and her family. This letter is part of that story.
This letter has been saved by her family for a century as a family treasure; it is the only known document to have been written by Geneva Hardman that exists today.
But the storm cloud that blotted out the sun before Geneva wrote the letter would not be the only storms to wreak havoc on the South Elkhorn community during the winter of 1920. Just eleven days after Geneva wrote to her sister, Nettie, Geneva's life would come to a tragic end.